The logo shows a woman in an oval setting, sitting in a fenced space, pointing up with her right hand. This image is the restyled emblem Abraham Kuyper used in the fist decade of his public career. He referred to it in his pamphlets on Uniformity (1869) and on Calvinism (1874) and in his book Our Program (1879), and the emblem was printed on the spine and front cover of this book. It was the logo of the Vrije Universiteit for more than a century.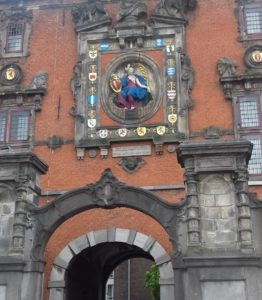 The origin of this emblem is to be found in Dordecht, the oldest city of Holland. Copper money with this logo was minted there in 1574, without consent of the Spanish authorities. The Maid of Holland on the coins represents the emerging new Dutch republic. The fences protect a separated area, free from Spanish domination. With her finger the woman points to heaven expressing her trust in God. The edge lettering on theses coins read: auxiliare nos in nomine Domini, our help is in the name of the Lord.
This historical image expresses a key notion of neo-Calvinism: that freedom roots in and is best defended by the Christian religion. That is why this image is used as logo for the NRI.